Covered jar in national Shino show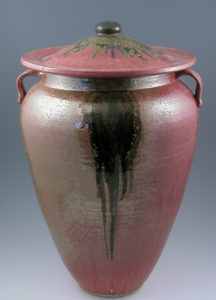 A tall covered jar of mine is currently on display in a show called Inspired by Malcolm: A Passion for Shino, at the Sandy Spring Museum,  15 miles north of Washington, DC. The exhibition is dedicated to the Japanese glaze Shino in general, a specific type of Shino glazing and firing technique, and the potter who discovered it.
The exhibition honors the memory of Malcolm Davis, a Washington, DC-based minister-turned-potter who developed and perfected a type of Shino glaze (and glaze firing) called carbon-trap Shino. It's known for dramatic interplays between cream, orange/red and black colors on mainly porcelain ware, with the black color produced when carbon is "trapped" in certain areas of the glaze.
My entry in the show, glazed with Gold Shino, was thrown and fired during a month-long workshop at Alfred University, in Alfred, New York, in 2015. Given that the workshop presented me with new surroundings, new wheel, new clay, a new glaze, and gas kilns fired in rushed circumstances by graduate assistants, I felt really good about getting this pot out of the workshop. Thanks to Sandy Spring Museum, and show curator Matt Hylek, for including my pot in the show.
The exhibition is scheduled to run until September 5, 2021.
http://johnsnyderpottery.com/wp-content/uploads/2021/06/john_snyder_shino_jar-for-homepage.jpg
737
1419
johnsnyder
http://johnsnyderpottery.com/wp-content/uploads/2015/03/head_2000_600_72_250pt_tue948-300x90.jpg
johnsnyder
2021-06-24 08:27:41
2021-06-29 08:59:32
Covered jar in national Shino show