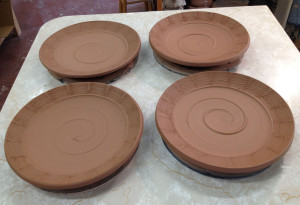 A set of dinnerware is the most labor and materials intensive project I can take on. For instance, it takes seven to eight pounds of clay to make just one 12 inch dinner plate. By contrast, I can make seven mugs from that clay. The same plate also eats up a lot of kiln space.
But, dinnerware sets are also exceptionally gratifying. There's little more enjoyable, in the potter's world, than seeing a group of friends enjoying great food and wine out of a set of their dinnerware.
Though I've not made a full dinnerware set in several years, I am making a set of plates, on request, for a good friend in Tennessee. She already has a bunch of my pots, many of which she uses at a Christmas dinner her church has every year. She wanted four plates to complete what she already has. I'm obliging with four plates modeled after those in the first two sets in the Dinnerware section of my gallery.
If you have any interest in dinnerware, please get in touch and we can discuss it.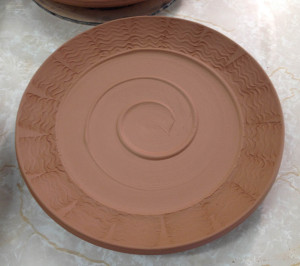 http://johnsnyderpottery.com/wp-content/uploads/2015/04/four_sandra_plates.jpg
983
1440
johnsnyder
http://johnsnyderpottery.com/wp-content/uploads/2015/03/head_2000_600_72_250pt_tue948-300x90.jpg
johnsnyder
2015-04-29 21:47:00
2015-04-30 11:14:28
Dinnerware